新加坡《亚太食品》杂志对安琪俞总专访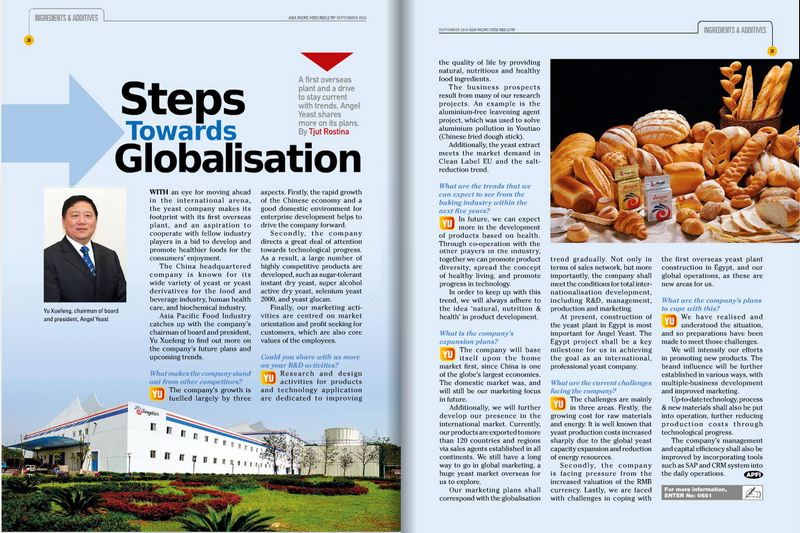 一、什么使安琪酵母从其他竞争对手中脱颖而出?
1. What makes Angel Yeast stand out from other competitors?
安琪酵母的成长主要是得益于三个方面,一是是得益于中国经济的快速增长,和中国良好的企业发展环境。
The growth of Angel Yeast is fueled largely by three aspects:
First, thanks to rapid growth in Chinese economic, and a good domestic environment for enterprise development.
二是安琪酵母一直高度重视技术进步,积累了一大批很有竞争力的产品。比如耐高糖酵母、超级酿酒酵母、酵母硒2000、酵母葡聚糖等产品,这些产品技术领先,非常具有竞争力。
Second, a great attention paid always on technological progress in Angel, and a large number of highly competitive products build up from this progress, such as sugar-tolerance instant dry yeast, super alcohol active dry yeast, selenium yeast 2000, yeast glucan, etc. , which manufactured in a leading technology, and with competitive marketing position.

三是根植于全体安琪员工的"以市场为中心"、"追求顾客价值"的理念,贯穿于市场全过程。
Third, concepts like "market oriented" and "profit-seeking <dict://key.0895DFE8DB67F9409DB285590D870EDD/profit-seeking> for customer " rooted in all Angel staff, and carried out throughout whole marketing activities.

二、请告诉我更多关于你们的研发计划
2. Please tell me something on your R & D program
安琪酵母的新产品研发、新技术的运用,致力于提高消费者的生活质量,为人们提供天然、营养、健康的食品原料。
R & D activities for new products and up to dated technology application in Angel Yeast dedicated to improving the quality of life of consumers, providing natural, nutritious and healthy food ingredients.
安琪很多研究项目具有很好的发展前景。比如无铝油条膨松剂,这是一款解决华人传统食品--油条"铝超标"问题的产品;YE(酵母抽提物),适应了欧盟等发达地区清洁标签(Clean Label)的原则和全球降盐的新趋势;对酵母源生物饲料添加剂的推广,为养殖行业替代抗生素、促进人类食品安全所提供的很好的解决方案。
The exciting prospects result from many Angel's research projects. For instance, aluminum-free leavening agent is a very good product that solved "aluminum over-proff" in Youtiao (the Chinese favorite fried bread stick). Additionally, the ingredient specification of Angel Yeast Extract meets fully the market demand in Clean Label EU and salt-reduce trend. Angel yeast based bio-feeding additives spreading provides substitute for antibiotics in cultivation and a innovative solution for human safety foods.

三、在下个五年内,我们希望整个烘焙工业的发展趋势是什么?安琪如何适应这种趋势?
3. What do you think the development trends of baking industry in the next five years? How does Angel adapt to this trend?
作为这个行业中的一员,安琪酵母希望和全球的同行合作,发挥各自的优势,多开发对人类健康有益的产品,促进产品的多样性,共同传播健康生活的理念、推动烘焙业的技术进步、培育烘焙市场。
As a member of the industry, Angel yeast hopes to cooperate with our colleagues in industry worldwide, give full play to everyone's own strengths, develop more useful products on human health, promote product diversity, and spread the concept together of healthy life, promoting technology progress and foster market in bakery industry.
我们始终坚持 "天然、营养、健康"的产品开发理念,将开发更多的适应市场需求的产品,比如我们在亚洲市场推广健康面包,提供与此理念配套的烘焙食品原料,如蛋糕预拌粉、面包预拌粉等等。
Angel yeast shall adhere the idea "natural, nutrition & health" in product development always. Lots new Angel products developed met market demands. Angel supply healthy baking ingredients like bread premix, sponge mix, etc., accompanying healthy breads spreading campaign in Asian market.
四、安琪关于以下方面的市场展望及扩张计划是什么:
4. What is Angel yeast next development step in marketing? Do you have any expansion plan for Angel recently?
首先我们是立足中国市场,因为中国是全球最大的经济体之一,这在过去是我们的重点,今后仍然是我们的重心所在。
Angel yeast shall base itself upon home market first, since China is one of the largest economies in globe. Domestic market was, and will still be our marketing focus in future.
其次,是对于国际市场的拓展,目前我们已经出口120多个国家和地区,在全球各大洲都有我们的产品销售或代理,但我们觉得还做的不够,我们面临着巨大的有待开发的国际市场。
Additionally, Angel shall further develop international market. Angel products exported more than 120 countries and regions currently via sales agents established in all continents. Angel has a long way to go in global marketing still, a huge yeast market exploring waiting for Angel team in oversee countries.
再次,我们要逐步适应国际化的要求,这不仅是销售网络的问题,更多的是安琪公司整体国际化发展的需要,从研发、管理、生产和营销都必需适应这种需要,而当前我们最重要的是做好埃及公司的建设,这将是安琪实现"国际化、专业化"酵母公司目标的重要里程碑。
Third, Angel's marketing shall correspond with the globalization trend gradually. Not only in view of sales network, more important is Angel shall meet the requirement of internationalization development totally, including R&D, management, production and marketing. Nowadays, Egypt construction is most important for Angel yeast. Egypt project shall be a key milestone for Angel achieving the goal of "international, professional yeast company".

五、安琪酵母当前面临的主要挑战有哪些?
5. What are the challenges for Angel right now?
安琪酵母当前面临的主要挑战主要来自三个方面:
The challenges mainly come from three aspects:
一是原料、能源成本上升的挑战。众所周知,随着全球酵母产能的扩大和能源资源的减少,这两方面的成本大幅度上升。
First, the cost is growing for raw materials & energy. It's well known that, the yeast production costs increased sharply from two aspects, with the global yeast capacity expansion and reduction of energy resources,
二是以及人民币升值带来的压力。
Second, Angel is facing the pressure from RMB up-valuation.
三是国际化运作的能力。安琪酵母的产品和服务覆盖了全球五大洲120多个国家和地区,尤其是首个海外工厂的建设,这些对安琪酵母国际化运作能力提出了新的课题。
Third, capability's insufficient in global business operation. Angel product and service covers more than 120 countries and regions in all continents, and first overseas yeast construction in Egypt especially, both brings new topics for Angel Yeast international operation.

六、安琪如何应付这些挑战?
6. How to deal with these challenges for Angel?
对于所面临的挑战,我们有充分的认识,在多个方面做好了准备。
Angel realized and understood the situation enough, and a multiple preparation made already for meet against those challenges.
一是进一步通过多种途径,扩大品牌的影响力,加大新产品的推广,多业务发展、扩大产品销售。
Angel shall intensify efforts to popularize & promote new products; Angel brand influence shall be expanding further by multi-methods; multiple-business development and improve marketing.
二是运用新技术、新原料、新工艺,通过技术进步降低生产成本。
Second, up to dated technology, process & new materials shall put into operation, further reduce production costs through technological progress.
三是运用新的管理手段,如SAP、CRM,提高管理的效率和资金运作的效率。
Third, Angel management efficiency and capital efficiency shall improved by new tools put into daily operation, such as SAP, CRM system.
七、安琪对2010年有何预测?
What's Angel's forecast for 2010?
通过市场的发展和各方面的努力,2010年安琪酵母保持持续的增长。
Angel Yeast business growth shall last continuously through the efforts both from market development and other aspects.